The Santa Barbara Channel
One of the Most Biologically Productive Ecosystems on Our Planet
The Santa Barbara Channel is one of the more biologically productive marine ecosystems on our planet. The water circulation and upwelling of the channel are complex and highly dynamic with the mixing of major currents coming from opposite directions and colliding in a transition zone around the northern Channel Islands.
There are eight Channel Islands off of Southern California; four southern islands and four northern islands.  Five of these islands, including all four northern islands, make up the Channel Islands National Park (Santa Barbara Island, Anacapa Island, Santa Cruz Island, Santa Rosa Island, and San Miguel Island). Six nautical miles around these five islands are the Channel Islands National Marine Sanctuary. These waters are also a Blue Park and the Channel Islands Biosphere Reserve.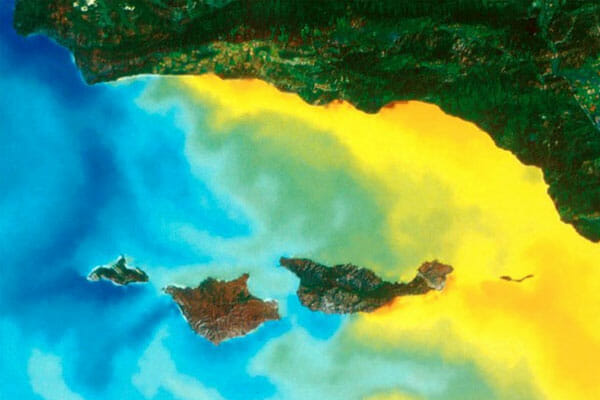 Currents & Upwelling Attract Cetaceans & Marine Life
The vast quantities of water in the ocean are always on the move. The Earth's rotation, gravity, wind patterns, temperature, salinity, shape of landmasses, and the contours of the seafloor are among the factors that shape these movements. Channel Islands National Park is uniquely located in a "transition zone" of less than 100 km where many ocean currents converge, providing a rich and attractive food source for cetaceans and other marine life. More About Channel Islands National Park
Download the Official NOAA Chart of the Santa Barbara Channel
Click the button below or the image on the right to download the official NOAA raster chart of the Santa Barbara Channel, #18720, in PDF format. Zoom in to explore details of the Santa Barbara Channel, the Channel Islands, and surrounding areas.
You Can Make a Difference
Help create a world where cetaceans are found only in the wild, are respected and fully protected, and live in sustainable habitats and harmony with people everywhere.