Monthly Whale & Dolphin Sightings in the Santa Barbara Channel
The Santa Barbara Channel sees thousands of dolphins and porpoises each month, far too many to count.
Santa Barbara Channel Whale Watching Tour Operators
Santa Barbara Harbor
Condor Express
Double Dolphin
Santa Barbara Whale Watch
Ventura Harbor
Island Packers
Channel Islands Harbor in Oxnard
Island Packers
Channel Islands Whale Watching
Channel Islands Expedition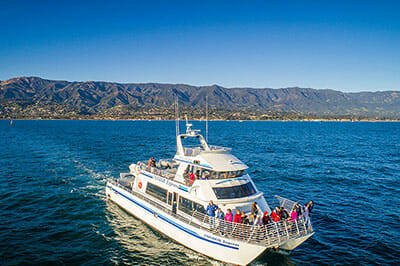 Condor Express Whale Watching
Santa Barbara, CA
Condor Express Whale Watching is one of the few whale watching companies to offer year-round whale watching and a whale watch guarantee. The Condor Express is an eco-friendly, 75', quad-jet catamaran that has an extremely stable and comfortable ride.  In addition to year-round whale watching, Condor Express also offers a variety of spectacular excursions in the Santa Barbara Channel including, pelagic birding, wedding cruises, dinner cruises, private parties, and corporate events.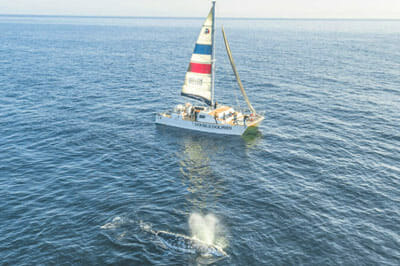 Double Dolphin Whale Watching Cruises
Santa Barbara, CA
Santa Barbara Sailing Center's Double Dolphin catamaran offers whale watching, coastal cruises, sunset cruises, private cruises, and various on-the-water events. Santa Barbara Sailing Center is also a world-class ASA sailing school, providing beginner through expert sailing instruction and certifications. They also offer boat, kayak, and paddleboard rentals at the majestic Santa Barbara Harbor.
Ventura & Oxnard, CA
Island Packers is the official boat concessionaire to the Channel Islands National Park, with 4 boats, running daily trips to the two closest islands: Anacapa and Santa Cruz, and offering trips to the outer islands, Santa Rosa, San Miguel, and Santa Barbara from early spring through November. Island Packers also offers wildlife cruises and whale watching trips for the migrating Pacific Gray Whales from the end of December through April. Whale Watching trips for humpbacks, blues, and fins are in the spring through fall, depending on sightings. On all their trips, the captain and crew are always on the lookout for whales and dolphins and will slow down to enjoy the diverse marine wildlife while traversing the Santa Barbara Channel to the Channel Islands National Park.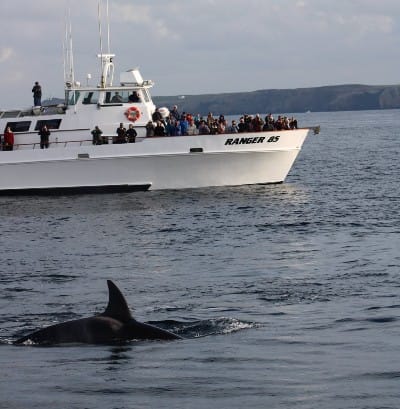 Channel Islands Whale Watching
Oxnard, CA
Whale Watching trips begin each year in December to coincide with the annual Gray Whale migration. In late fall, these whales start migrating from the Arctic and make their way down to Mexico to give birth. Then in late winter and early spring, the gray whales and their calves migrate back up to their feeding grounds in the Arctic. They pass right through the Channel Islands area during both trips.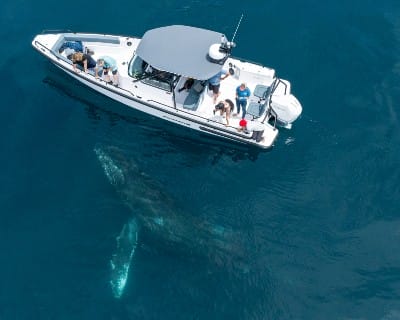 Santa Barbara Whale Watch.
Santa Barbara, CA
Santa Barbara Whale Watch (SBWW), was created with the passionate whale enthusiast in mind. We are devoted to providing the ultimate adventure and photography experience for our guests. Our vessel is designed to ensure your comfort and safety while on board. With a spacious deck area for photography and optimal viewing, we specialize in guided whale-watching tours, allowing you to observe and capture stunning moments of these magnificent creatures in their natural habitat.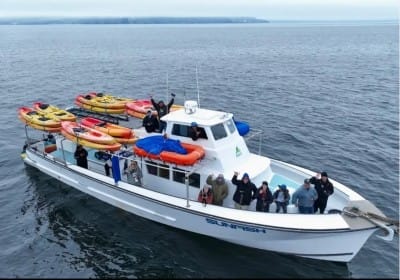 Channel Islands Expedition
Oxnard, CA
Experience the gray whale migration as these amazing animals make their annual northern migration up the California coast to Alaska with their calves in tow. Circumnavigate Anacapa Island by boat. This is non landing, but the best way to experience the entire island while birds and flowers bloom! If we don't see baleen whales, you get expedition credit for the full value you paid for any future service we provide for the entire year. (see pic of the Sunfish attached)